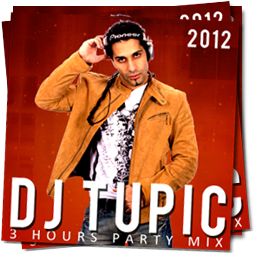 Last album 2012
Track 1 - Persian Deluxe 6 (part1)
Track 2 - Persian Deluxe 6 (part2)
Track 3 - Persian Deluxe 5 (part1)
Track 4 - Persian Deluxe 5 (part2)
Track 5 - Persian Deluxe 5 (part3)
Track 6 - Gherti beats 3 (part1)
Track 7 - Gherti beats 3 (part2)


Albums Archief
Click on the cover to listen online or download
BIOGRAPHY
DJ TUPIC (Farhad) is born on 1 september 1983 in Tehran (IRAN). In the year 2000 he started his carrier as a DJ. In a short time he became one of the most wanted Persian DJs in Europe!


He has performed in a lot of different countries in Europe (The Netherlands, Germany, Belgium, Danmark, Sweden, England)


Beside DJ he is also a great producer. In 2007 he released his first produced track (eshghe man) including a videoclip and more are coming soon...
MUSIC STYLES
Persian - Turkisch - Arabic - House - Trance - R&B - Reggaeton - Dancehall - Bubbling - Latin - Salsa
This page is under construction
This page is under construction
This page is under construction
HOME
BIOGRAPHY
EVENTS
PICTURES
LINKS
CONTACT